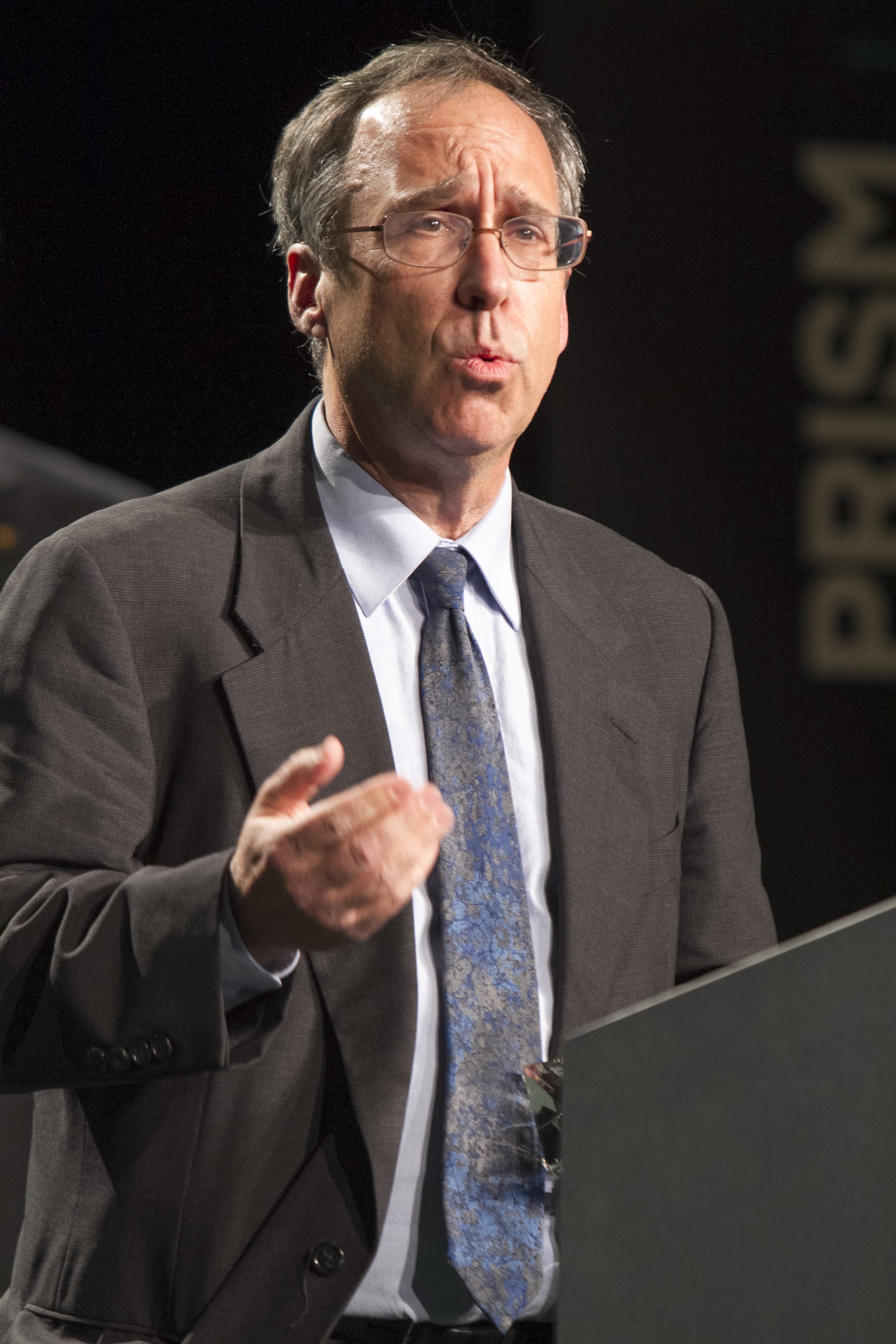 09 Aug 2022 - Joe Zott

With the recent technology, fab, and government funding announcements what do the 2020's represent for the advance process semiconductor industry?

Clearly a transition is occurring. Today this industry has 3 fab players: TSMC, Samsung, and Intel and a large infrastructure of innovators and suppliers.

Semiconductor process node availability at the most advanced process node has been flattening for a decade. Yet technology innovations, product demands (and ability to pay for them), and government supported capex programs all combine for the technology growth to continue.
Semiconductor Process Node Innovation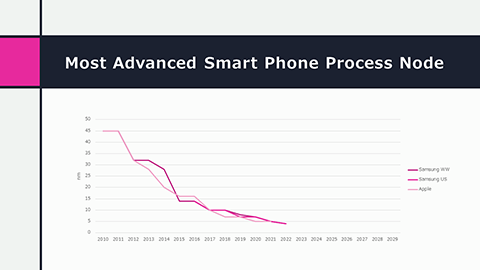 TSMC pointed out in its fourth-quarter 2021 results that semiconductor wafers based on the 5-nanometer (nm) and 7nm processes accounted for half of its revenue. The 7nm wafers produced 27% of total wafer revenue, while the 5nm chips accounted for 23%. TSMC also added that wafers manufactured using advanced technologies (which include process nodes sized at 7nm and below) accounted for more than 50% of the company's total wafer revenue.
Not surprisingly, TSMC is expected to spend a huge chunk of its capex on these advanced processes this year. Tom's Hardware estimates that 70% to 80% of TSMC's planned 2022 capex will go toward the development of advanced processes, especially on 2nm and 3nm nodes following the company's heavy spending on developing the 5nm process last year.
Similar announcements have been made by Samsung and Intel. Yet at the same time there are many challenges.
Apr 18, 2022 — Yield on Samsung's 3nm chip production reportedly drops to a 10-20% range in February, reports circulated that Samsung Foundry's yield on its 4nm process node was only 35%. Compare that to the 70% yield achieved by TSMC for its production of the 4nm Snapdragon 8 Gen 1 Plus. TSMC ended up receiving orders from Qualcomm to build its remaining Snapdragon 8 Gen1 chipsets along with the Snapdragon 8 Gen 1 Plus SoC. Wccftech says that according to sources, the first "performance version" of its 3nm GAA chipsets that Samsung will ship to customers starting next year could actually be new in-house Exynos chips. Samsung reportedly has been working on a new family of Exynos chips for its smartphones but at this stage, it is unclear whether they will be built using the 3nm GAA process node
On the whole though optimism reins.
With 3nm volume production starting later this year, TSMC is turning its attention to the 2nm generation. Both are being driven by demand for chips for high performance computing, says CC Wei, CEO of TSMC in its latest quarterly results. Advanced technologies below 7nm account for half the company's revenue of US $7.6bn in Q1, better than expected, with 5nm providing 20% of wafer revenues and 7nm 30%. All six product areas increased in the first quarter. Smartphone increased 1% quarter-over-quarter to account for 40% of the first quarter revenue. HPC increased 26% to account for 41%. IoT increased 5% to account for 8%. Automotive increased 26% to account for 5% and digital consumer increased 8% to account for 3%.
Semiconductor Process Node Roadmap
After reviewing the various advanced technology road maps, at a high level it looks like: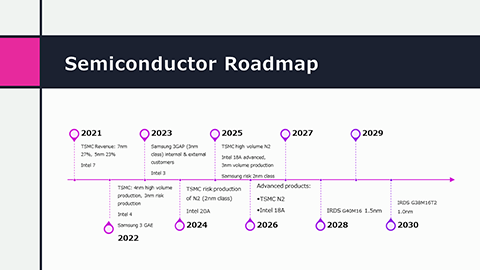 Smartphones
I also researched what semiconductor process has been used for mobile phones over the last decade and what is likely to be used in next decade.

It looks like the smartphone trend line will mostly follow the historical trend line of the past few decades, but by 2026 this trend will slow down as process node innovation slows.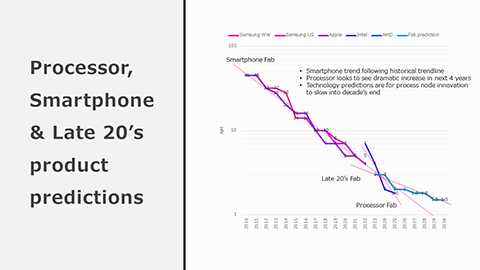 Another interesting observation is that it appears most likely that smartphones will stay on the leading edge, but there is some chance that processors will begin to take increasing advantage of leading edge process technology (likely in response to Apple). Apple has already started to use multidie / chiplet technology and by the mid to late 2020's chiplets appear to be increasingly necessary to improve performance as if one supplier takes this approach all others will need to follow since the process fab node improvements that are expected will not maintain the same performance growth curve.
On 4 January 2023 MacRumours reported:
Qualcomm and MediaTek, however, have not yet made a clear decision on whether to join the 3nm camp this year, despite both hoping to keep up with Apple's process upgrade for their flagship mobile SoCs, the sources continued.
The more advance the process node fewer companies can afford the design and fab costs. So it is likely that the leading edge will be dominated by the mobile phone needs of Apple and Samsung. At 3nm wafer costs are reported to be $20K. What will a 2nm or 1nm wafer cost be?
Other technology factors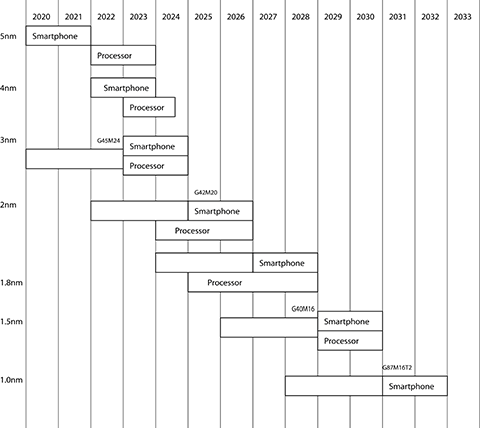 A couple of things are not apparent in a simple semiconductor process description: memory and integration (chiplet or PCBA).
PCBA
While I have done a fair amount of semiconductor work over the years I view myself as a product guy. So I have been looking at existing products to see what advanced semiconductors looked like from a product perspective.
Smartphones are at the leading process edge, but we see very little of interest there. Most advanced smartphones, a Samsung S22 is shown below, are simply a couple of advance chips on a small PCB with very little support around it.
A much more interesting example is GPUs.
(reference and/or insert content here)
Chiplet
(reference and/or insert content here)
Integrated memory
(reference and/or insert content here)
Capital financial
There is a financial cost for all of this advanced technology and it shows up as both capex and opex.
Capex
"We expect our HPC platform to be TSMC's strongest growing platform in 2022 and the largest contributor to our growth, fueled by the structural megatrend driving increasing need for greater computation power and energy-efficient computing," said Wei. The 2022 capital budget stays steady at between US$40 million and $44 billion, although it expects capacity to remain tight throughout 2022.
TSMC's sentement is echoed by Intel, Samsung, and others as with current growth plans.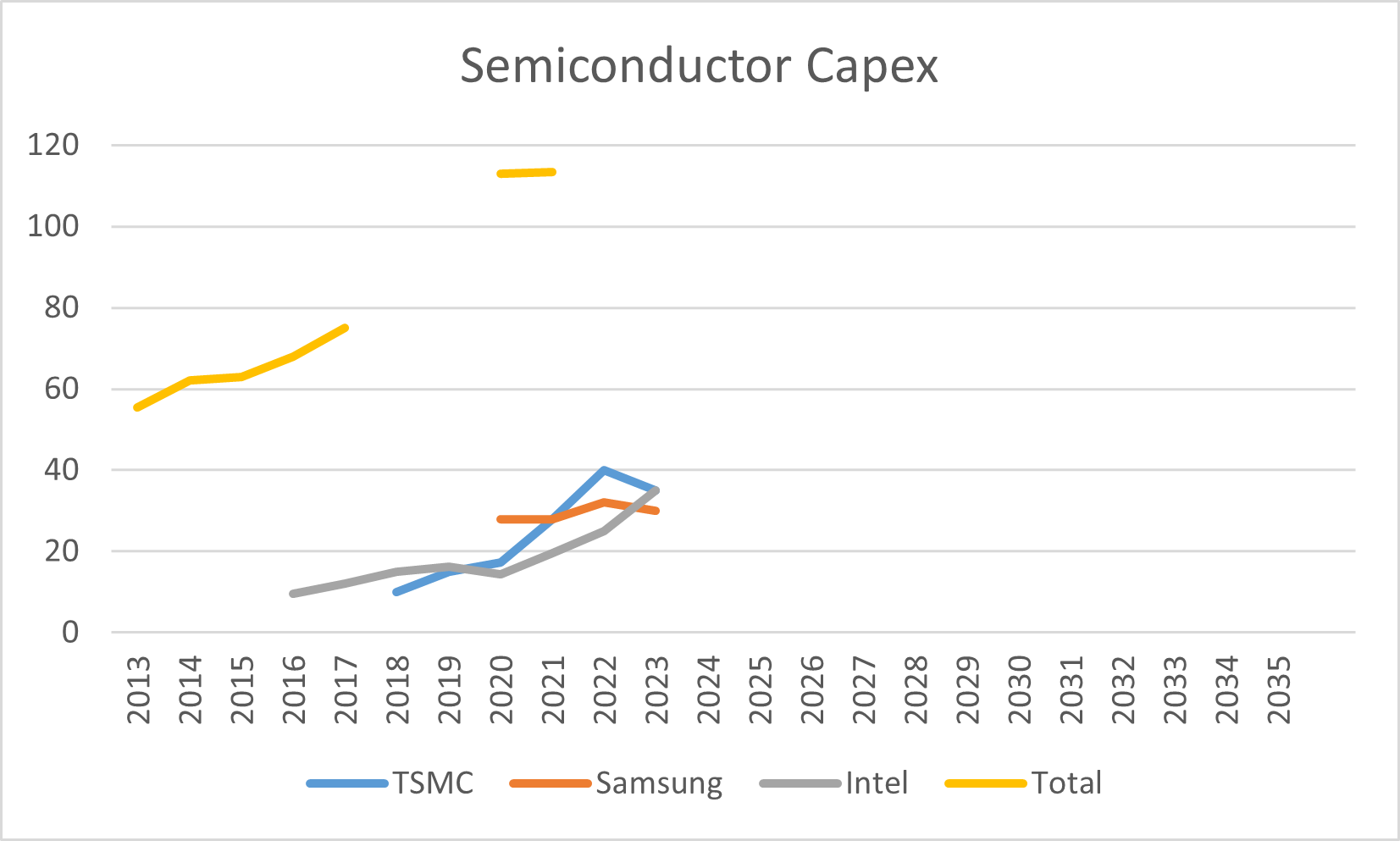 The current factory capex level is simply stunning when one considers how much of a percentage semiconductor factories represent in terms of the world-wide capex investment for EVERYTHING. The investment levels seem to be continuing to increase.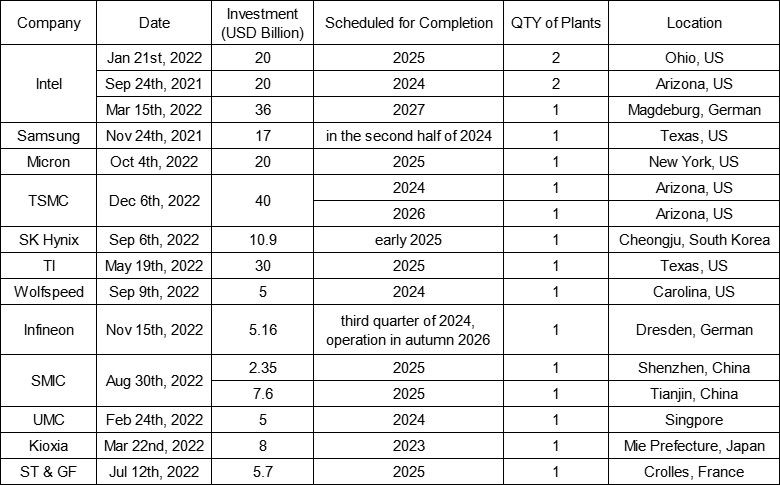 To be seen how much capital the world can invest in advanced semiconductor fabs. The most advanced process node semiconductor fabs have represented about half the total semiconductor fab capex in the past decade. For the last few years (2020 - 53%, 2021 - 67%) it has been trending higher. With TSMC/Samsung/Intel's 2023 semiconductor capex over $100B (current estimate $106B) the increasing capital cost of semiconductor fabrication is clear. With the world's yearly total capital investment being about $1T, the semiconductor industry is clearly a significant part of the world's capital investment.
Opex
Price per wafer continues to increase
Conclusion
The positive observation is that semiconductor innovation looks like it will continue in the 2020s at a rate that matches design customers expectations. So what do the 2030's have in store? That will be reviewed in a future post.