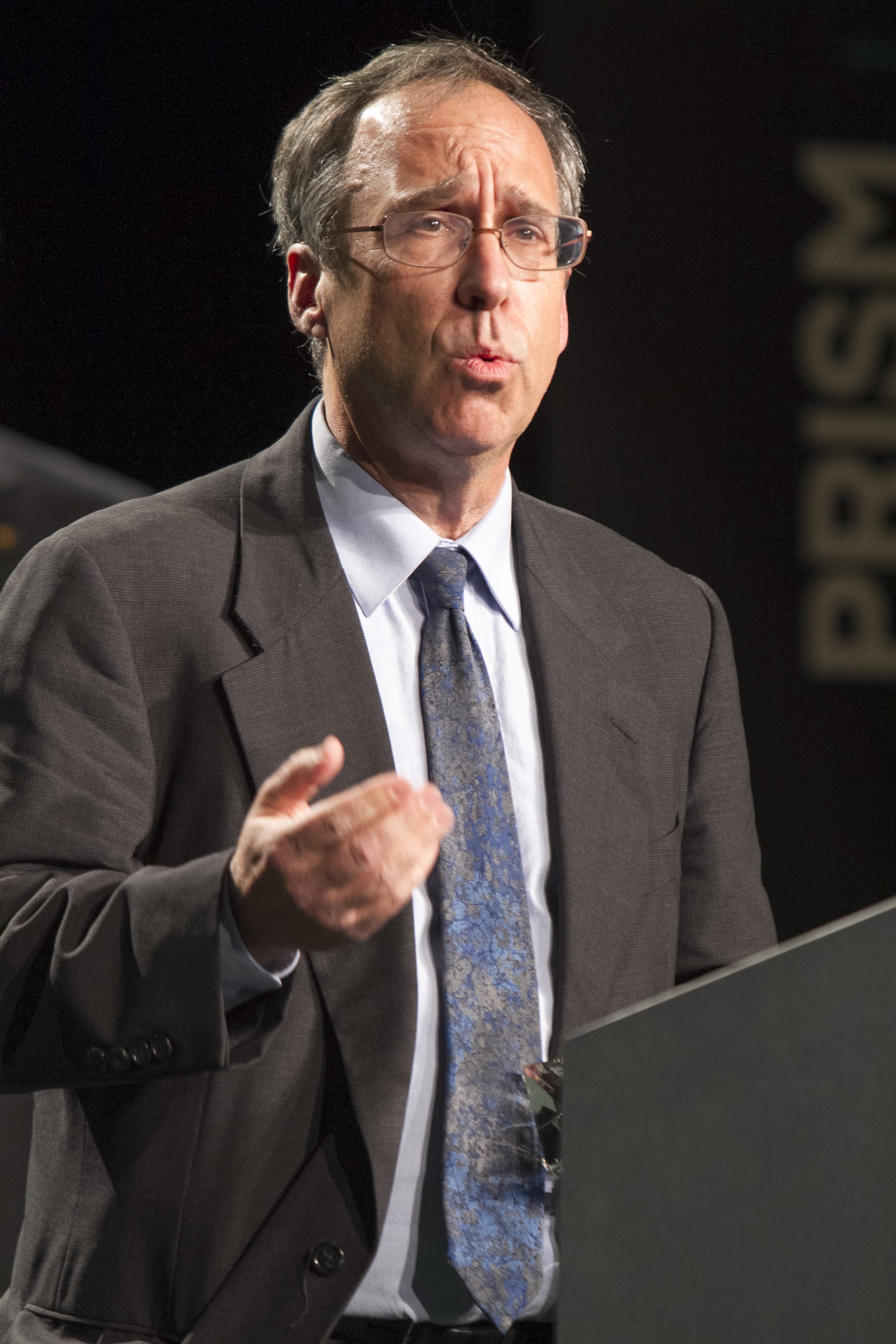 02 Aug 2022 - Joe Zott

Having built a series of vein visualization devices for AccuVein (AV300/AV400/AV500) I thought it would be interesting to share the history of NIR vein visualization. As technologists we usually think we are living in and creating things that are completely new. I thought the story was a good reminder that while we think we are creating new things that we stand on the shoulders of others and that others have gone this way before. Many of the ideas that we are working on have been around for a very long time.

I shared a bit of this story when I received the SPIE Prism award for best medical device of the year for the AccuVein AV400 in 2014. SPIE is the premier international professional society for optics and photonics, so I was very honored to receive this award.

Vein visualization has been around for a long time. It will be interesting to see where it goes in the future.
Vein Visualization in 1930s
After WWI NIR film becomes commercially available. This starts off the exploration of NIR imaging applications.
While slow to capture and use images on film, vascular imaging had arrived.
First publication of scientific papers on the use of NIR vascular imaging. Laurens, H. The physiological effects of radiant energy. New York: The Chemical Catalog Company, 1933.
Shortly after follows the paper: Jones, E. 'The demonstration of collateral venous circulation in the abdominal wall by means of infra-red photography', The American Journal of the Medical Sciences, No. 190, 1935: 478-485.
Vein Visualization in 1948
By 1948 some doctors, observing that near infrared light penetrated tissue by a few centimeters, started using infrared photography. Thanks to this technique, the veins under the skin – not visible to the naked eye or with conventional film – could be detected and examined.
While film based vascular imaging was slow and inconvenient, this method could detect veins that were not visible with the naked eye.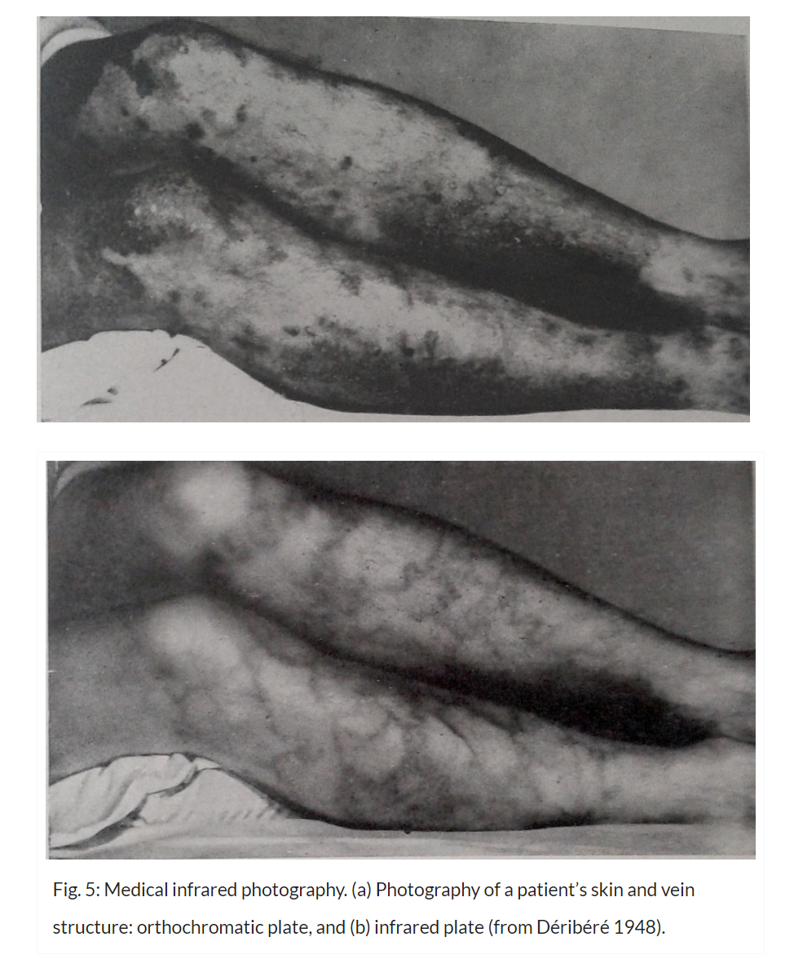 Vein Visualization in 1960's and 70's
By the 60's Kodak started publishing how to guides on the use of NIR photography for vein visualization and medical imaging.
With the availability of longer wavelength thermal imaging cameras, these cameras were applied to vascular visualization.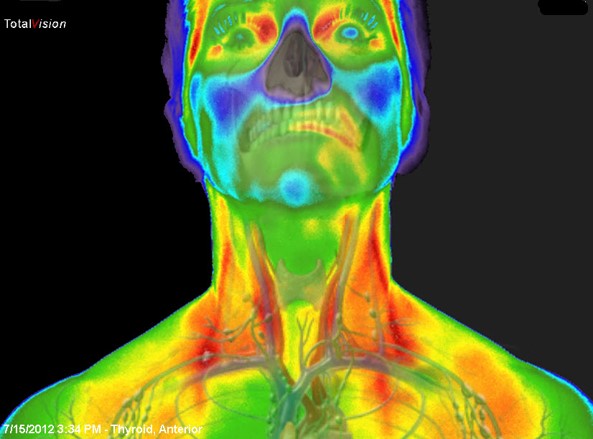 Vein Visualization in 1976
In 1976 a patent was issued for real-time vascular imaging. Cholesteric liquid crystalline phase material-dye composition and venapuncture method employing the composition, US4015591A.
With this approach vascular imaging was now available while the procedure was being conducted. There was no longer a need to wait and process a photographic film image. While procedural visualization was what people were looking for the visualization quality was poor and so this approach was not widely used.
Vein Visualization in 2001
Luminetx corporation was founded to develop a reprojection NIR vein visualization product.
Vein Visualization in 2006
A patent was issued in 2006 for a more refined thermochromatic vascalar imaging device. Thermochromic devices for vascular access procedures, US20080146913A1.
Luminetx releases their first product  - VeinViewer. The VeinViewer is 6' 4" 135 pounds and cost about $30K.
With the Luminetx release of a reprojection device, thermochromatic vascular visualization technology was dead. This is a great example of a technology reaching maturity and commercial viability and becoming immediately replaced by a an infant but superior technology.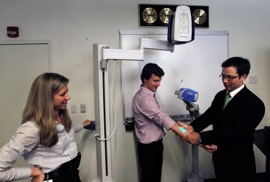 Also, in 2006 AccuVein was founded to develop an improved NIR vein visualization product.
Vein Visualization in 2007
Not a significant date in the history of vein visualization, but this is the year that I joined AccuVein to start development of their first commercial product.
Vein Visualization in 2009
Luminetx releases Vein Viewer Vision. 5'2" 55 pounds. It was dramatically smaller and lighter than their original product.
Also in 2009, AccuVein announces 8" 14 ounces AV300. The product is dramatically smaller lighter and less expensive than Luminetx's original and upgraded product.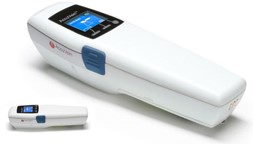 Vein Visualization in 2010
Christie® Medical Holdings purchases Luminetx.
AccuVein AV300 wins Medical Design Excellence (MD&M) Gold medal as the best critical-care and emergency medicine product of the year.
Vein Visualization in 2011
Christie announces VeinView Flex. 1.6 pounds, 11.6" x 4" x 1.7". While not as small as the AccuVein AV300, it is handheld and offers improved usability over the VeinViewer Vision.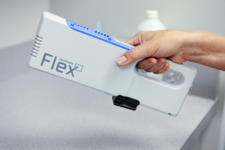 Vein Visualization in 2012
AccuVein announces the AV400 with superior performance. Unlike the earlier AV300 the AV400 used an FPGA to process the images and had substantially better performance and usability. It also maintained the same form factor and weight as the AV300 - 8" 14 ounces.
Vein Visualization in 2016
Christies announces VeinViewer Vision 2. 70" tall and 54 pounds. While not a dramatic vein visualization improvement, the extended arm offered increased product usability.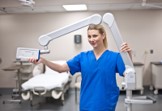 Vein Visualization in 2018
AccuVein releases third generation AV500. The AV500 is the most advanced vein visualization device in the world as I modernized the optical design and processing. It also maintained the same form factor and weight as the AV300 and AV400 - 8" 14 ounces.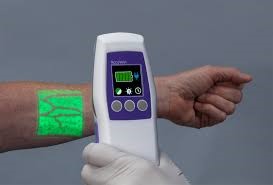 Vein Visualization in 2019
CAREstream Group today announced its acquisition of Christie® Medical Holdings, Inc. They never were able to match the usability and portability that we achieved at AccuVein.